Use StandardSD Cards, UHS‑II or CFast 2.0 Media!
The Blackmagic Pocket Cinema Camera features built in CFast and SD UHS-II card recorders, and a USB-C expansion port for recording direct to an external media disk. You can use regular SD cards for HD or higher performance UHS-II and CFast cards for native 4K or 6K when using Blackmagic RAW. Imagine capturing over an hour of full resolution 6K images on a single 256GB SD UHS-II card! The ProRes and Blackmagic RAW files work with all video software. You can even mount the media cards on your computer and start editing directly from them using the included DaVinci Resolve Studio software!
For a list of certified media,please visit our Support Page >
Blackmagic Raw
The quality of RAW and the speed of video!
Blackmagic RAW is a revolutionary new format designed to capture and preserve the quality of the sensor data from your camera. Video formats such as H.264 are highly compressed, plus add noise and weird artifacts, causing original sensor detail to be lost forever. Blackmagic RAW eliminates this problem and gives you stunning images with incredible detail and color throughout the production pipeline from camera to edit, color and mastering. It also saves camera settings as metadata so you can set ISO, white balance and exposure in camera or override them later while editing, all without any loss of quality! Blackmagic RAW files are also small and fast to use making them easy to work with. Only Blackmagic RAW gives you the highest quality, smallest files and fastest performance!
Learn more about Blackmagic RAW >Download Blackmagic RAW Player >
Color Temperature
Setting the color temperature tells the camera how to interpret white and other colors in an image. Instead of saving images with color values baked in, Blackmagic RAW makes it possible for you to change the temperature in post production with DaVinci Resolve Studio.
Contrast
Adjusting contrast, or the tonal range of an image, can make different parts of the image stand out. While you should always try to get the best shot on set, Blackmagic RAW gives you the flexibility to adjust contrast without any loss of quality while you're editing and color correcting.
ISO
Changing the ISO adjusts the camera's sensitivity to light. Properly exposed shots require the right combination of ISO, aperture and shutter speed. Depending on the lights and exposure settings, you may need to adjust ISO in post.
Tint
Adjusting tint is another way you can affect the overall color balance of an image. Unlike saturation or midpoint which can make reds redder or yellows more yellow, adjusting tint actually lets you push the colors in different directions.
Saturation
Saturation is the strength or purity of a color. More saturated colors are pure and less saturated colors have a percentage of gray in proportion to their hue. Adjusting saturation in Blackmagic RAW images can help make the colors visually pop or become muted.
In order for your images to look good, you need to make sure that it's not too bright (overexposed) or too dark (underexposed). With Blackmagic RAW, the exposure settings can be changed in post so you can save shots that were not properly exposed!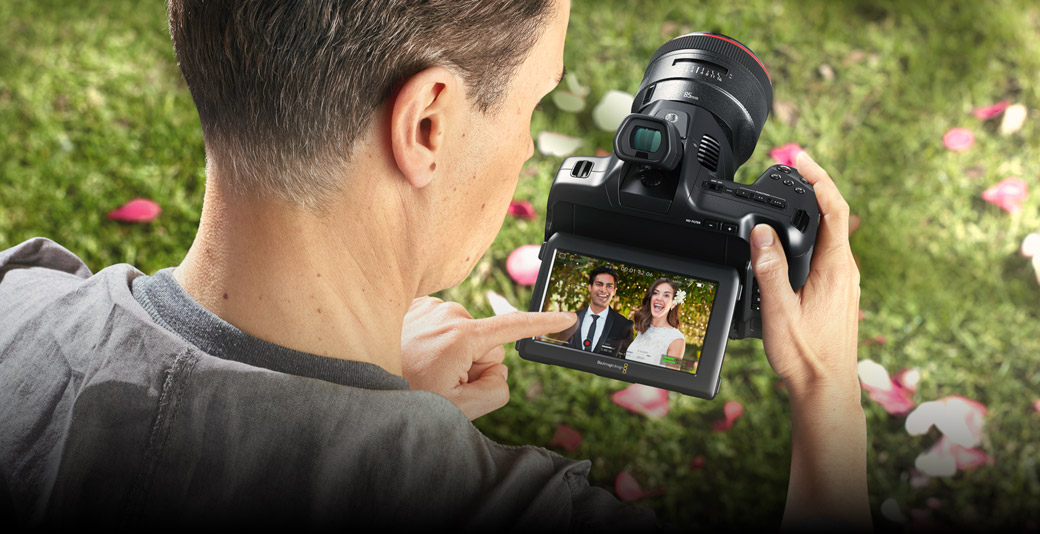 Touchscreen for Fast Setup
The large LCD touchscreen displays critical information on the heads up display, or HUD, as well as access to camera setup menus. The HUD lets you see and adjust settings such as the frame rate, iris, timecode, shutter angle, white balance, ISO, audio levels and more with a single tap. You can show or hide the HUD by simply swiping up or down. Adjust settings such as white balance simply by touching the WB indicator, or change the audio levels by touching the audio meters. Everything is interactive, so you can tap any item and instantly change settings without searching through confusing menus! You can also access settings such as the digital slate, to quickly add metadata to any shot.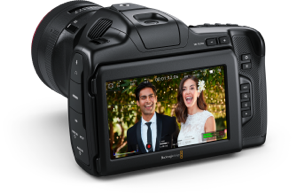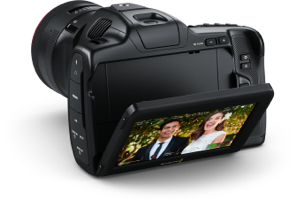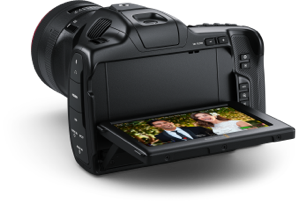 Large 5″ LCD Monitor
Blackmagic Pocket Cinema Camera features a large, bright 5 inch touchscreen that makes it easy for you to frame shots and accurately focus. That means you don't have to carry around an external monitor! On screen overlays show status and record parameters, histogram, focus peaking indicators, levels, frame guides and more. You can quickly apply 3D LUTs for monitoring shots with the desired color and look. The Pocket Cinema Camera 6K Pro LCD monitor is a more advanced HDR display that can be tilted up and down so it's easy to monitor your shot from any position. Plus the 6K Pro model's HDR display features 1500 nits of brightness, ideal for use in bright sunlight